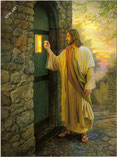 Hi, my name is Allen Ballantine. I'm formerly a deacon and the youth pastor at North Glen Baptist Church. In my twelve years of leadership and teaching  there, a lot of people have asked me questions concerning God and the bible.
I have compiled a lot of my research into short messages about various subjects concerning God and events leading to the end times. I hope that this site will help with any questions you might have.
       For many people, accepting Christ is a very emotional decision. Their testimonies touch people on an emotional level. For me it was different, my decision was more a logical, rational one. You may think the rational, logical decision would be science, but God can reach us in many ways. If you are a less emotional more rational thinker, I hope to show you that accepting Jesus Christ is the most logical rational choice. If this site helps you in understanding God and the bible or if you have any questions, please e-mail me at curveball19@juno.com, or leave a message in my guestbook. Thank you.
          Two of the most important verses in the bible are John 3:16-For God so loved the world, he gave his only begotten Son. That whomever believes in Him shall not perish, but have everlasting life, and Romans 10:9- if you confess with your mouth the Lord Jesus and believe in your heart that God raised Him from the dead, you will be saved.
   If you believe in Jesus and would like to confess, just go to God with this prayer;
    Lord Jesus, I know I am a sinner and have displeased You in many ways. I believe You died for my sin and only through faith in Your death and resurrection can I be forgiven. I want to turn from my sin and ask You to forgive me and come into my life as my Savior and Lord. From this day on, I will follow You by living a life that pleases You. Thank You, Lord Jesus for saving me. Amen.